Frequently Asked Questions
How are shipping charges determined?
We primarily use the USPS Flat Rate Priority Mail product for speed and tracking ability.  This shipping method is based on how much product can fit in flat rate shipping packages. For example, it cost the same to ship one t shirt as it does to ship one t shirt and 1 sweatshirt.  In almost all cases, the shipping rate you pay is less than the actual cost.  International shipping rates are high and we have no control over that but we subsidize them.  The best value rates for international shipping rates are obtained with multiple product. In some cases, if we determine that an alternative shipping method is more efficient and less cost, we will use that to save you money.  Also, if we see that you paid more than the actual shipping charge we will adjust it before billing.
Will I receive a confirmation of shipping notice?
By providing your email address in your order you will receive confirmation and a tracking number.  Please note that you will receive your tracking number when your order is generated but the shipment will not be trackable until it enters the USPS system, normally within the same day.  Simply put, if you attempt to track your order right after receiving your tracking number, it will only show as being entered into the system.  Sometimes it can take up to 24hrs for the tracking data to appear.  The ability to track varies with each country once your item leaves the U.S.
How will the charge show on my credit card statement?
Your charge will show as ITRACKEDSANTA.  Some companies add our parent company, ChirpOn, LLC
What if I am not happy with my order?
While we cannot imagine such a thing, your satisfaction is 100% guaranteed!  You will LOVE your items. If for any reason you want to return your order, we will refund your charges, including original postage, upon receipt of your return.  If there is anything wrong with your order, we will make it right.
Are there customs charges or taxes? INTERNATIONAL CUSTOMERS PLEASE READ!!!!!
We do not add customs nor taxes. These vary by individual country. Your package will have a customs form attached describing contents and value.  If you receive a notice that additional fees are due, these are from your government, not us!  In general, we have found that orders under approximately $20 U.S. do not generate custom charges or taxes.  Our software automatically generates a custom form with the value of the contents.
Here's a handy size conversion chart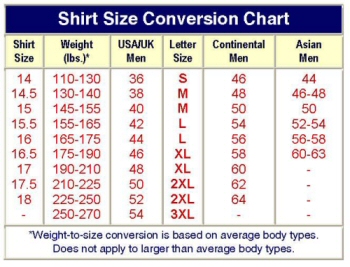 Why do the Youth sweatshirts not have hood cords?
Manufacturers do not add cords on child apparel for safety reasons.
What's the best way to contact you?
We monitor our email ([email protected]) outside of normal business hours so it is usually the fastest way to get a response. Our U.S. hours are 9-5 Pacific Time and you can reach us at 541-900-5500.  The line is often busy or everyone is trying to get orders out as fast as possible, so please leave a message and we'll quickly follow up.